Investor Relations
Stock Information
Stock Information: Stock Details
Stock Details
Stock Details
(as of March 31, 2021)

| | |
| --- | --- |
| Total number of shares authorized to be issued | 89,000,000 |
| Total number of shares to be issued | 28,978,860 |
| Numbers of shareholders | 5,849 |
Principal Shareholders(10 major shareholders)
(as of March 31, 2021)
Shareholders
Number of shares
% ratio of issued shares
Eaton Corporation
6,217,660
21.63
KSD-KB
1,376,100
4.79
The Bank of Yokohama, Ltd.
1,302,525
4.53
Honda Motor Co., Ltd.
1,233,690
4.29
Nihon Parkerrizing Co., Ltd.
1,098,154
3.82
PHILLIP SECURITIES
CLIENTS (RETAIL)
1,057,000
3.68
Mitsugi Takahashi
809,900
2.82
SNT Corporation
517,000
1.80
Nittan Valve Employees' Stock
Ownership Association
489,101
1.70
Meiji Yasuda Life
Insurance Company
448,641
1.56
Stock distribution by owner type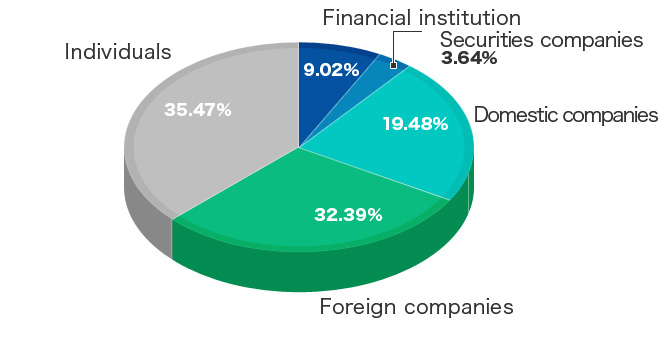 Notes:
Eaton Corporation entrusts 6,217,660 shares of the Company that Eaton Corporation possesses to the Bank of New York Mellon 140042 (Standing proxy: Settlement & Clearing Services Department, Mizuho Bank, Ltd.), and being stated in the shareholder registry in the name of the said company.
A part of real shareholders for KSD-KB (Citibank N.A., Tokyo Branch serves standing proxy) are Yoosung Enterprise Co., Ltd. (holding 869,000 shares) and Keumyong Machinery Co., Ltd. (holding 507,000 shares).
The substantial holder of the stock of PHILLIP SECURITIES CIENTS (RETAIL) (Standing proxy: Phillip Securities Japan, Ltd.) is Siam Motors Parts Co., Ltd.
The shareholding ratio is calculated by deducting the treasury shares (233,743 shares).