The passion Mr. Shinji Shibayanagi, the founder of Nittan Valve,
"The Japanese forging industry should be more admirable"―
His big ambition to raise the level of Japanese manufacturing
capability continues to live on today.
It's used at such. - Where Our Products Are Used
Our products are used where you don't often see in everyday life. Engine valve, one of our main product lines, plays a critical role in engines for automobiles and motorcycles.
Furthermore, we also produce valve-train parts such as roller rocker arm, which are peripheral components of engine valves and development and sales of our products on a unit basis are available.
Additionally, our gear products manufactured through our precision forging process play a crucial role in differential gears that are used on vehicles for construction,
industry, and agriculture.
Valve Train Mechanism

Valve Train Parts in an Engine
Engine is a major source of power in the modern society. An automobile engine consists of around 5,000 components.
Among them, engine valve, one of our leading product lines, is facing a combustion chamber in the engine. For engine valves to be able to seal pressure repeatedly generated inside the chamber during combustion, these critical components require reliability and durability.
Furthermore, RRA and HLA contribute to improvement in fuel efficiency by reducing abrasion resistance and transmitting the power from a camshaft to engine valves.
This engine valve intakes air / mixed air into a cylinder and seals the cylinder.
This engine valve seals high-temperature combustion gas generated in a cylinder and exhausts the gas outside.
This part contributes to better fuel efficiency by reducing abrasion resistance with cam.
This part automatically adjusts valve clearance in response to expansion and contraction of an engine valve due to the change in temperature in the chamber.
Differential Gear

Differential gear
Differential gear enables smooth cornering by the appropriate allocation of the power to a right wheel and a left wheel.
In the differential unit, our bevel gears manufactured with our precision forging technologies play a pivotal role.
We have engaged in manufacturing of precision forged gear since 1963 when we began technical collaboration with BLW. Our precision forging technologies enable to produce gears in precise shape at the stage of forging process and they allow the production of gear in a wide range of size and design. Taking advantage of high technologies we have accumulated, we always tackle the development of products in a new realm.
What is Engine Valve ?
The engine valve is a component mounted on the engine of various products such as two-wheelers, four-wheelers, farm machines, construction machinery, ships, generators, and general-purpose products including chainsaws and lawn mowers.
To use a biological analogy, the engine corresponds to the human heart and the engine valve to the heart valve.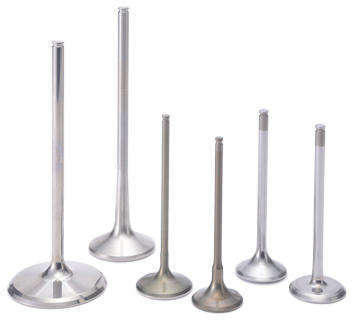 In the combustion chamber inside the engine, a series of movements is continuously performed: compressing and burning the air-gasoline mixture and then discharging exhaust gas. The engine valve, being installed at intake port and exhaust port, always opens and closes in appropriate timing.

* The engine valve at exhaust port requires more strength than that at intake port as exhaust gas is exposed to a high temperature (e.g. 800°C to 1000°C for commercial cars, 1000°C or higher for racing cars).

Our manufacturing is always associated with "motive power (power to move machinery)" to manufacture gears for the differential in cars (bevel gear) and the components for engine valvetrain system such as valve lifters and roller rocker arms.
Manufacturing Capabilities
Technology
Nittan Valve has had its core technology,
the superior forging technology, since 1924.
Forging is one of the metal processing methods and the method to form metal by pressing it with hammers and press machines. Pressing metal helps to crush air gaps inside the metal, to align crystal structure, and to make products of higher strength.
Forging technology itself originates BCE. For example, the world-class Japaneses word is also a forged product.
As a matter of course, our products cannot be manufactured without the forging technology.
Manufacturing Process
The products of Nittan Valve have been produced by
hot forging technology and the machining techniques.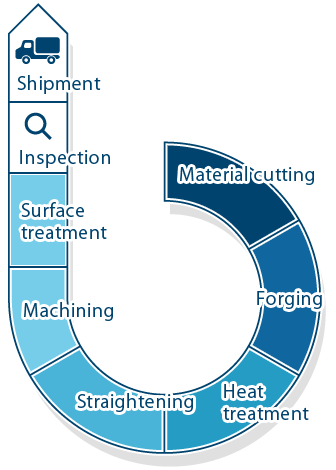 One worker used to work on one process continuously, but mechanization and automation are increasingly taking place at the current production line. Construction of production lines has been necessary for the daily low cost production including improvement of forging accuracy and reduction of processes, machines, and operators.
Nittan Valve has developed an unique streamlined production line, the NGV (Next Generation Valve) Line. We achieved our automation lines by integrating the processes from the forging process to machining process and minimizing the manual process while improving the accuracy of technology. Furthermore, we made it possible to increase our production capability in a smaller space and succeeded in improving the productivity. Based on the concepts of the "Non-stopping production lines" and "Zero defective product", our NGV Line will intensify efforts to achieve goals continuously.
Product Development
Through close coordination with our design, manufacturing,
production engineering, and sales, we are able to meet the customers' broad needs.
Advanced development ahead of the market
Development to embody in-house seeds
Joint development with our customers and business partners
Production development for our customers'requests and problem resolutions.
Equipment for evaluating and analyzing products and testing their performance and reliability are aggregated at R&D Center in our head office.
Based on highly accurate data accumulated in product development that we have been engaged in, we have built up our unique evaluation/analysis technology. In addition, we have created the enabling environmen for responding to co-verification with our customers without hitch, and have supported high-quality and low-cost product development.
Quality Control
We control the quality of products in a "Nittan manner".
We have not only acquired the certification of ISO9001 and ISO/TS16950, but have also established our unique criterion for quality check in conformity with them.
"To manufacture the product with reliable quality according to the drawing and as promised to the customers" is the most basic concept in manufacturing.To achieve this concept, improvement activities on a daily and steady basis are indispensable. We have laid stress particularly on NPM activity aiming at the construction of a production process that will produce no defective products.
In addition, further more ingenuity is required on work instructions and procedures because we are globally expanding our production sites. For example, we do not impose Nittan ways to measure the dimensions. We have been adequately verifying work instructions and procedures optimal to each site before adopting them.
The proper eyes to rigidly check the quality, constant improvement activities, and the right person for the right job management have supported the Nittan brand.
The production system in three major regions -Asia, North America,
and Europe- enables customers to optimally procure our products.