Corporate Profile
Nittan Valve's Activities
Nittan Valve's Activities:Environmental Policy and Environmental Management System
Environmental Policy and Environmental Management System
Basic Policy
Contributing to the society through corporate prosperity while coexisting with the environment
Environmental Policy
As a manufacturer of valves for internal combustion engines and other transportation equipment parts, we place importance on harmony with the global environment and coexistence with local communities. All of our employees are proactive in aiming at increased environmental protection with the following objectives:
Engage in environmental conservation activities for environmental sustainability and enhancement within a technically and economically appropriate scope.
Develop technologies and manufacture transportation-equipment-related products while taking the environment into consideration.
Net-shape manufacturing
Contrive and continually improve methods of manufacturing products to reduce waste and conserve resources and energy by thoroughly eliminating wastage in production.
Comply with environmental laws, regulations, conventions, etc.
Endeavor to prevent pollution not only in steady work, but also in emergency work such as accidents so that there will be no pollution leak in case of emergency.
Set up environmental objectives, conduct audits to examine the progress, conduct a regular review of the progress, and promote continual improvement.
Enrich the contents of employee training programs to raise their awareness of the importance of environmental protection.
Disclose our environmental policy to the public and endeavor to coexist with local communities.
Environmental Management System
International environmental standard ISO 14001
We are promoting environmental improvement activities based on our Environmental Management System at three manufacturing sites in Japan; Head Office, Horiyamashita Plant and Sanyo Plant. As a manufacturer specializing in transportation machinery and equipment, we are diligently examining and eliminating environmental burden in the course of our operations from development through production and shipment, and also promoting continual improvement. In addition, with our promotional organization, Environment Committee, led by our President as Chief Executive Officer, we are promoting environmental improvement activities based on our Environmental Management System.
Organization for promoting the Environmental Management System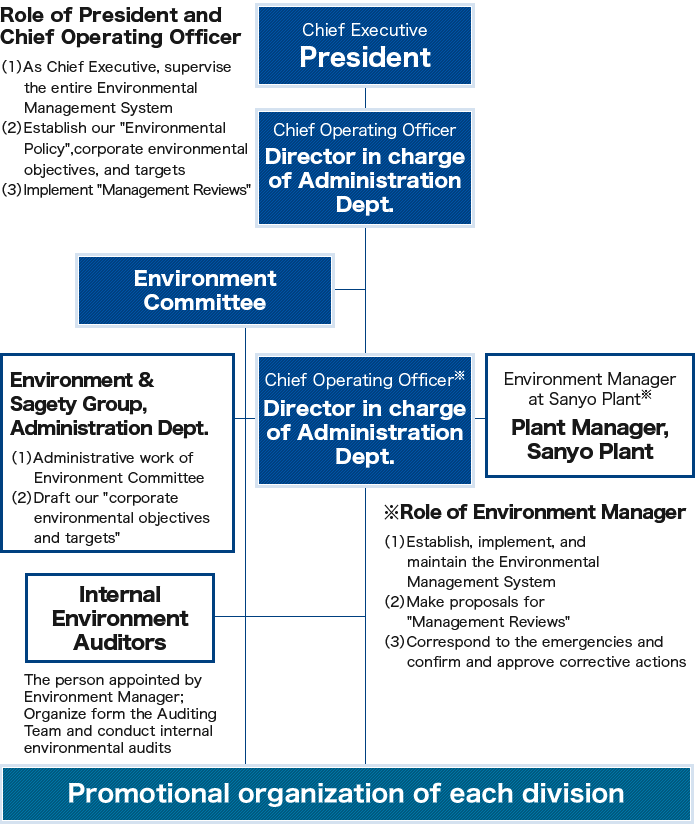 Environmental protection activities
1. Environmental sustainability activities
Practice of the environmental protection activities and compliance with applicable laws and regulations

Prevent local environmental pollution
Activities to protect wholesome environment

Develop tachnologies and mManufacture of products with consideration for the environment

Reduce substances of concern
Developm resource saving products
We proactively develop the products that help to save energy and resource in order to proect environment.

Operations with awareness of environmental protection

Propagate Clean & Green activities to restrict the use of substance of concern.
Participate in environmental cleanup projectsto promote local environmental protection
2. Activities to reduce environmental impact
Promote net shape manufacturing included in our environmental policy to reduce the use of materials and energy, and also to carry out through 3R's (Reduce, Reuse, Recycle) activities to promote the recycling of wastes
3. Educational activities on environment
Provide training to all employees to raise awareness of environmental activities related to their jobs to establish and implement our environmental management system